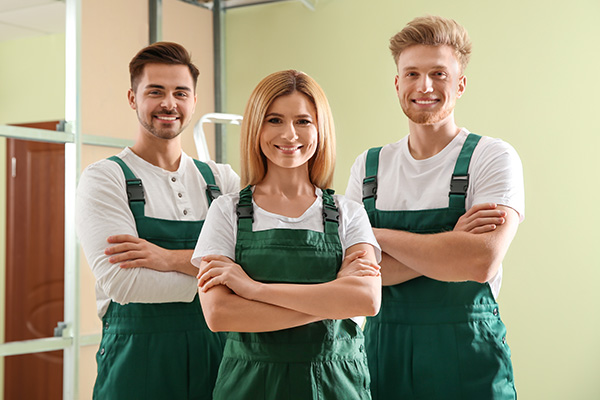 We Joyfully Serve Our Clients
At Enviro-Dry Cleaning & Restoration, we take great pride in making sure our customers are 100% satisfied with the services they receive. We are experts in restoring your home when disaster strikes – whether you have fire damage, smoke damage, mold, water damage, or any other needs, we are here to help restore your home and make it feel as good as new. We are here for you 24 hours a day, 7 days a week. If you have any questions or would like to get a quote, reach out to us today. We look forward to serving you!
Proud to Be Belton, MO's Best Home Restoration Company
Stop the worry, and start the recovery. Let us help you get your life back on track.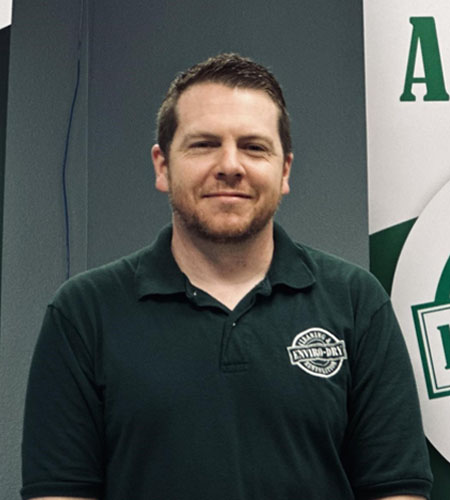 Owner, President, Director of Operations, Accounting, Marketing
Jason Short Business Development, Training Supervisor, Project Manager, Restoration Supervisor. Jason has been in the home service trades industry for over twenty years. His background is extensive in remodeling and restoration work. Jason is also an inspector and a former licensed contractor with the state of Minnesota. He holds multiple IICRC certifications, is AHIT certified, and holds a Bachelor's degree in Organizational leadership along with a Master's degree. He started Enviro-Dry in 2011 and has continued to expand the company's technical services and also the areas we serve.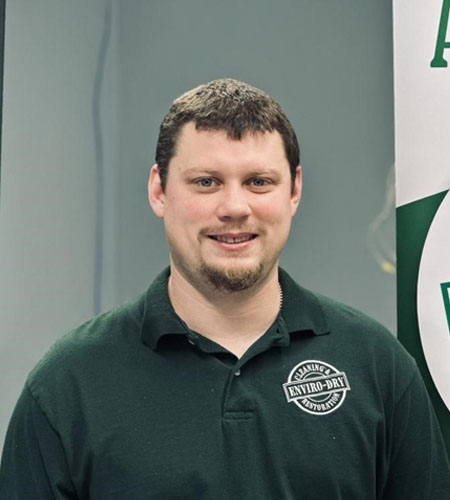 Restoration Project Supervisor/ Manager
Head of Restoration Client Communications, Restoration Sales, Lead Restoration Crew Chief. Bret has a vast amount of experience in the restoration industry. Bret carries multiple certifications from cleaning to restoration. He is an expert in restoration science and has been trained by some of the most respected names in the industry. He is always a great guy to work with and his reviews are consistently positive! We are very blessed to have Bret on our team.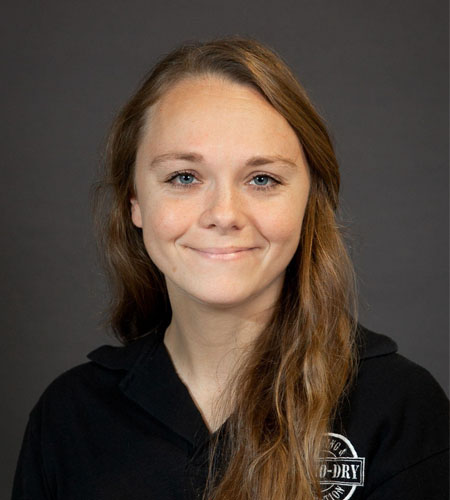 Restoration and Cleaning Administrative Manager
Mary is entrusted with communications, client relations, assistant in cleaning and restoration operations assignments, assistant for accounting, assistant for marketing, rug washing technician. Mary has worked with Enviro-Dry for five years. She is the main voice on the Enviro-Dry phones. She always gives her best and every client knows she truly loves her job. Her contentment is contagious and her positive attitude is a joy to work around. Mary is a certified IICRC carpet/textile specialist.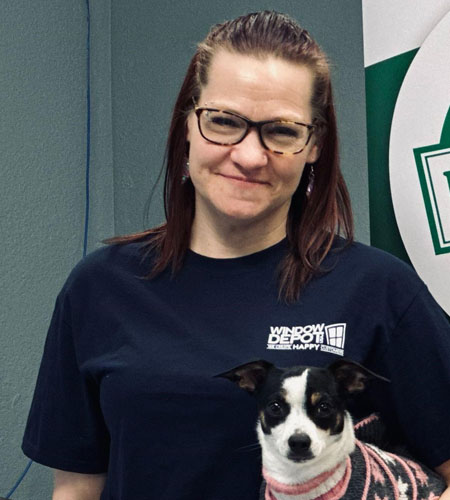 Construction and Remodeling Administrative Manager
Shiloh is entrusted with communications, client relations, assistant in cleaning and restoration operations assignments, assistant for inventory, and assistant for accounting and payables. Shiloh has worked with Enviro-Dry for over a year. She is the main voice on the Window Depot and Construction phone line. She always gives her best smile and brings positive energy everywhere she goes. Her desire to learn and improve her skills is admirable. We are happy she's on the team! Gemma is our company doggy/mascot- nuff said.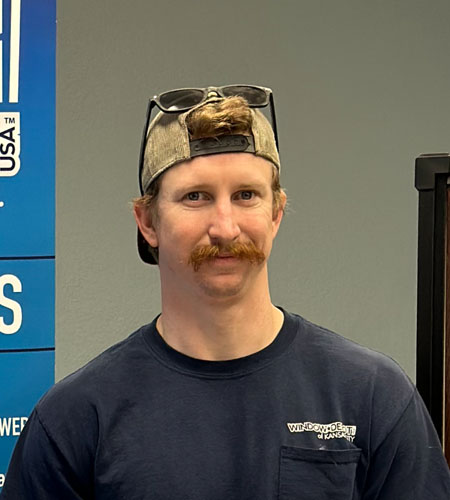 Construction Project Supervisor/ Manager
Head of Construction Client Communications, Construction Sales, Lead Construction Crew Chief. Gabe has been with the company for over a year and has proven his ability to everyone he works with and the homeowner's who trust us to do a professional job. Gabe is very attentive to details and is an incredible problem solver. Coupled with his ever increasing desire to better his skills as a project manager, we couldn't have a better person overseeing our construction division. Gabe is a veteran and he enjoys hunting and eats a lot of good meat from his hunting expeditions.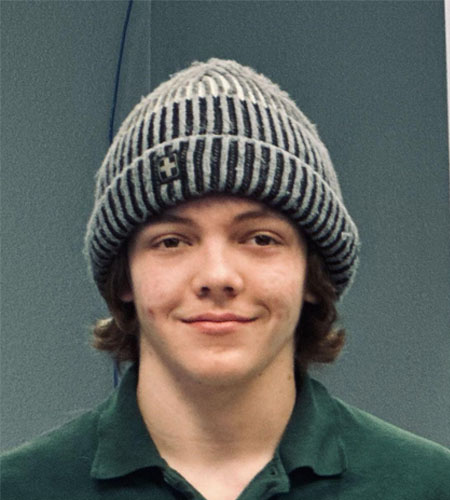 Crew Chief for Restoration and Cleaning
Assistant Project Manager, Lead Restoration Technician, Carpentry Assistant, and assistant for equipment maintenance. Kyler is a very detailed cleaner and is hands down one of the best carpet cleaners who have ever joined the team. Kyler is an enjoyable person to work with and hold a good conversation with. Rest assured that, when Kyler has cleaned for you, it has been cleaned by someone who truly cares about his job and making sure customers are satisfied and happy with his work. Kyler loves cars and anything mechanic related.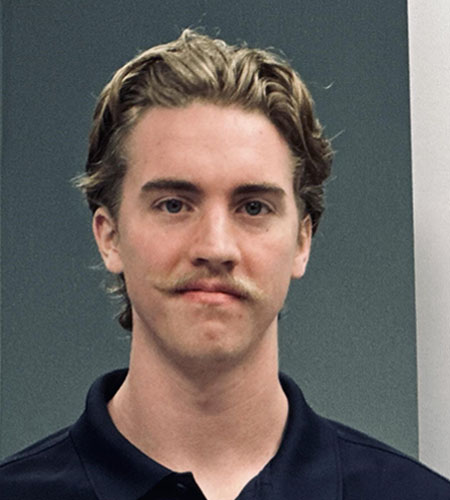 Lead Restoration Technician, Cleaning Technician, Carpentry Assistant
Schaefer is a warm and friendly person who enjoys helping and meeting new people. His experience is vast in the carpentry industry and he has caught on with the restoration and cleaning industry well. Schaefer is a good musician and you will find him often enjoying some jams if he isn't working.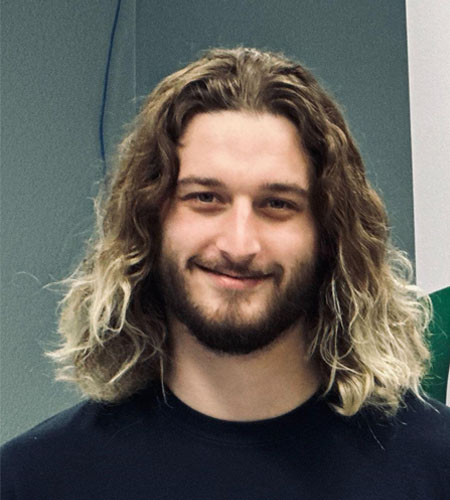 Lead Carpenter, Window Sales, and Assistant Restoration Technician
Parker has been with the company for nearly two years. He is a great carpenter and enjoys the work he gets to be involved in. Parker is easy going and laid back. There's not too much to be concerned about when Parker is on the job. His mellow presence is a joy and easy to work with! In his off time you will find him playing music. He's an incredible drummer.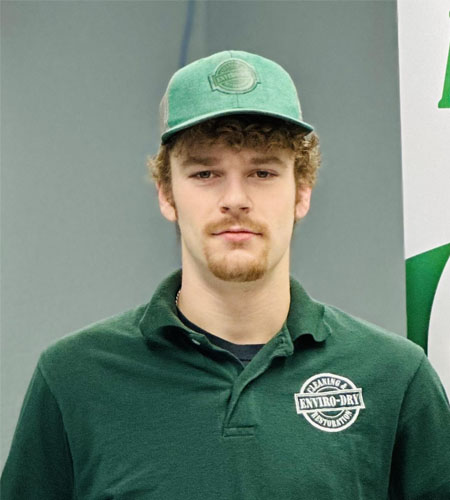 Assistant Restoration and Cleaning Tech, Assistant Carpenter, Estimator in training
Tim has been with us for about a year and a half. Right out of high school, he joined our company and he's been a pleasure to work with. He is a dedicated worker and if he has a job to do for you, rest assured he will be thorough and make sure it's done right. If he can't do something, he will be the first to admit it. Tim is an excellent problem solver and his attention to detail and natural giftedness with math have put him into the estimator position at times. We look forward to many more years of Tim's professionalism. Tim is easy going and enjoys hanging out with his friends when he isn't working.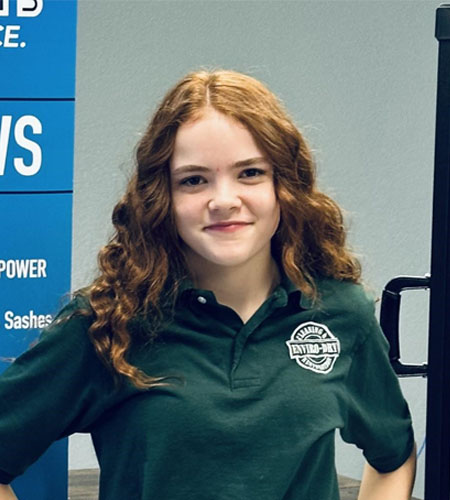 Office Assistant, Assistant for Restoration and Cleaning
Megan is typically helping with accounting and bookkeeping. She is busy herself helping on odd tasks at the shop and cleaning as well. She enjoys learning new things and helping others. Her help on the job sites is always welcomed. When Megan isn't working you might find her hanging out with her friends or doing something art related. She will be graduating high school soon and we hope she continues to be involved in the company for years to come!